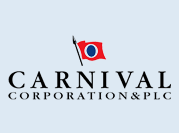 | | |
| --- | --- |
| Company name | Carnival Corporation |
| Stock ticker | CCL |
| Live stock price | [stckqut]CCL[/stckqut] |
| P/E compared to competitors | Fair |
MANAGEMENT EXECUTION
| | |
| --- | --- |
| Employee productivity | Fair |
| Sales growth | Poor |
| EPS growth | Poor |
| P/E growth | Good |
| EBIT growth | Poor |
ANALYSIS
| | |
| --- | --- |
| Confident Investor Rating | Poor |
| Target stock price (TWCA growth scenario) | $27.48 |
| Target stock price (averages with growth) | $35.07 |
| Target stock price (averages with no growth) | $30.1 |
| Target stock price (manual assumptions) | $31.38 |
The following company description is from Google Finance: http://www.google.com/finance?q=ccl
Carnival Corporation is a cruise company. The Company operates in two segments: North America and Europe, Australia & Asia (EAA). Its North America segment cruise brands include Carnival Cruise Lines, Holland America Line, Princess Cruises (Princess) and Seabourn. Its EAA segment cruise brands include AIDA Cruises (AIDA), Costa Cruises (Costa), Cunard, Ibero Cruises (Ibero), P&O Cruises (Australia) and P&O Cruises (United Kingdom). In addition to its cruise brands, it has a Cruise Support segment that includes its cruise port and related facilities located in Cozumel, Mexico; Grand Turk, Turks and Caicos Islands and Roatn, Honduras. In addition to its cruise operations, it owns Holland America Princess Alaska Tours, a tour company in Alaska and the Canadian Yukon. As of November 30, 2012, tour company owned and operated, among other things, 12 hotels or lodges, over 300 motorcoaches and 20 domed rail cars.
Confident Investor comments: At this price and at this time, I do not think that a Confident Investor can confidently invest in Carnival Corporation.
If you would like to understand how to evaluate companies like I do on this site, please read my book, The Confident Investor. You can review the best companies that I have found (and I probably invest my own money in most of these companies) in my Watch List.
How was this analysis of Carnival Corporation calculated?
For owners of my book, "The Confident Investor" I offer the following analysis (you must be logged in to this site as a book owner in order to see the following analysis). If you have registered and cannot see the balance of this article, make sure you are logged in and refresh your browser.